Sustainable home construction has put a new emphasis on expandable polystyrene insulated homes. The demand for a more efficient, energy saving, sustainable home has led to great innovations with improved insulation techniques using expandable polystyrene. Insulated concrete forms and structural insulated panels have become the 21st century's answer to traditional building methods. The performance of new building techniques improves insulation, provides a model for less waste, and improves on the practice of sustainability in the building industry.
Insulated concrete forms have become what should be a necessary transition to traditional construction methods. ICF's offer much more insulation than traditional building practices. From sub-level to multi-floored buildings, the building practice provides more insulation and energy efficiency than that of traditional construction practices. Sound-barrier protection is vastly improved, as well as the overall stability and protection from nature's destructive forces.
Structural insulated panels are another efficient design practice for energy savings. Both in insulating qualities and the efficiency of the construction of new homes, these panels deliver the efficiency, strength, and insulation qualities that traditional home building practices will not deliver. SIPS homes not only deliver superior insulation protection compared to traditional homes, the strength compared to traditional buildings is greater with less timber. SIPS paneling in homes also provides better outside noise reduction and noticeably more strength from natural elements than do traditional home building practices. Comparable in pricing to traditional homes, the value comes in the years after construction. There are claims that total energy savings is more than 50% when compared to traditional wood framed homes.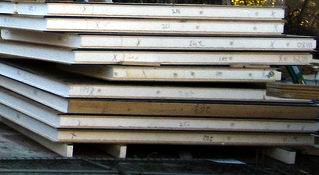 Expanded polystyrene is used in construction practices for the transportation industry. Roads, bridges, embankments can all utilize expandable polystyrene as backfill, structural foundation, and even sub-terrain insulation. Utilizing a light, non-biodegradable material to stabilize soft-ground for roadways is particularly popular. Advantages to geofoam are vast. The use of the expandable polystyrene block does not require heavy land-moving equipment. The geofoam blocks can be used both with natural embankment and/or can be utilized behind retaining walls reducing the load. Geofoam also retains stabilization more effectively than soil and other fill alternatives.
The use of expandable polystyrene for building and construction practices is vast and revolutionizing many aspects of business and sustainability in many industries. Expandable polystyrene can be utilized to reduce our energy consumption and to create opportunities that provide real-world solutions to traditional practices in construction and resource management.
External Links