Reducing foam packaging is an economical way to reduce waste costs.
Expandable polystyrene and other foam plastics are 98% air making them very bulky in comparison to their weight. The high volume fills dumpsters quickly, leading to higher waste disposal costs. Foam Compactors reduce the volume of expanded foam products, and in turn, less fees are incurred through reduction. Also a benefit, compacted foam products can be shipped economically to a recycling location. Compacting foam plastics can save thousands in unnecessary waste costs!
A benefit to a variety of markets: manufacturers, furniture stores, appliance stores, food/seafood industry, property management agencies, retail sector, schools and school districts, stadiums/parks, and any expandable plastics recycling program.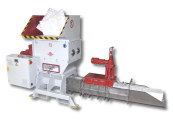 Today's demand for recycling grows ever stronger
Waste reduction is on the priority list for many companies and communities. The impact of consumer waste is evident everywhere. Recycling efforts are implemented in many industries: Paper, aluminum, plastic bottles, corrugated, and EPS/Styrofoam waste are just some of the varieties of recycling programs within industries around the world today.
Recycled Foam materials are "rich" in value.
Companies value the recycled material used to make a variety of the items seen on shelves today. Anything from picture frames to plastic lumber, recycled expanded plastics are even made back into packaging. Companies are paying substantial income for the recycled product. The demand for recycled polystyrene is valued over many metals, glass, paper, and other recyclables.
The time to compact your EPS/ Styrofoam and other expandable plastics is now!
If disposal of eps/styrofoam packaging is a high percentage of your wastes costs, then this is obviously a beneficial way to reduce those unnecessary costs. Everyday that expanded plastics are going to the dumpster without being compacted is a waste of money and vital resources that can be used more effectively. This is an intelligent decision for your business; reduce the annual budget for waste removal. Remember, recycling these products is a value to you, the economy, and the environment.
Take the time to see if these options are something that can benefit your business and/ or community. More information available at http://www.foamequipment.com